Thanksgiving Farm Dinner
Moving to a foreign country does not come without its own impediments. One, which I quickly realized, was that this year would be the first (in my life) where I would not be sharing the Thanksgiving Holiday with my friends and family at home. To help mend that realization, I took part in a "Farm Dinner" held by the Rustic & Blue Restaurant.
Rustic & Blue is known in Chiang Mai for their hand-grown produce and artisanal food. While it is not uncommon for restaurants/cafés in Chiang Mai to have their own unique flair, Rustic & Blue stands out with its atmosphere and food via a truly "home grown" flavor. Their ingredients are all grown on a local farm and that freshness really shines in their dishes. Once a month, the restaurant offers a specialty dinner out on their farm. Here, they offer a food selection which is different from the restaurant but still elegantly crafted.
After discussing the event a few weeks before, with some friends, I put in for my reservation at the cost of ฿1,500 (approx. $42USD). The dinner was being offered on Saturday and Sunday, just before Thanksgiving, and we decided to go for the Sunday dinner.
On November 20th, I met my friends at the restaurant around 4:30pm. Once everyone had arrived and checked in, the crowd piled into several songthaews and headed out to the farm.
The Arrival
Any time I venture outside of the Old City/Nimman area, I am hit with a refreshing reminder of the foreign land I am in. Specifically, I take in the more open landscape, compared to the same suburban views along every exit of the highway back home.
We arrived at the farm just in time for a full view of the handsome sunset. A cleared patch of land, sitting next to a small river, was equipped with 3 viking-style dining tables (covered by a tent's skeleton) and a section for refreshments (open-bar style) all lit by a chandelier. Walking into the dinner area, it reminded me of an outdoor wedding scene. I certainly wasn't alone in making this comparison!
On our arrival, we were greeted with an assortment of beverage options. Here is what I remember being offered:
Water
Lavender Lemonade (non-alcoholic)
A special "Rustic cocktail"
Sangria
Red Wine
White Wine
Various craft beers (bottled)
IPA beer (draft)
The Lavender Lemonade was new and super refreshing - definitely something I would recommend back home for a hot summer's day. While I am not a wine expert, by any sense of the term, I believe we were drinking "boxed wine". The barrelled presentation was a really nice touch, though, and added well to the overall decor.
As dusk faded into night, we took our seats for the meal.
The Meal
The Farmer Dinner Meal of 2016 consisted of:
Roasted Winter Veggie & Lentil Soup topped with coconut chai cream
Fried Calamari Salad with homemade chili mustard mayo, rocket & seasonal fresh greens
BBQ Duck Leg Tacos on homemade masa corn tortillas, topped with homemade salsa, radish & onion pickles, and cheesy creamed corn
Roasted Whole Chicken with oriental spices, wild honey rice with chestnut & garlic, lemon butter, strawberry & mulberry pickles
Pumpkin Coconut Rice Pudding Brûlée Crumble
Each course was well paced, with ample time in between for beverage refills and general appreciation for our night.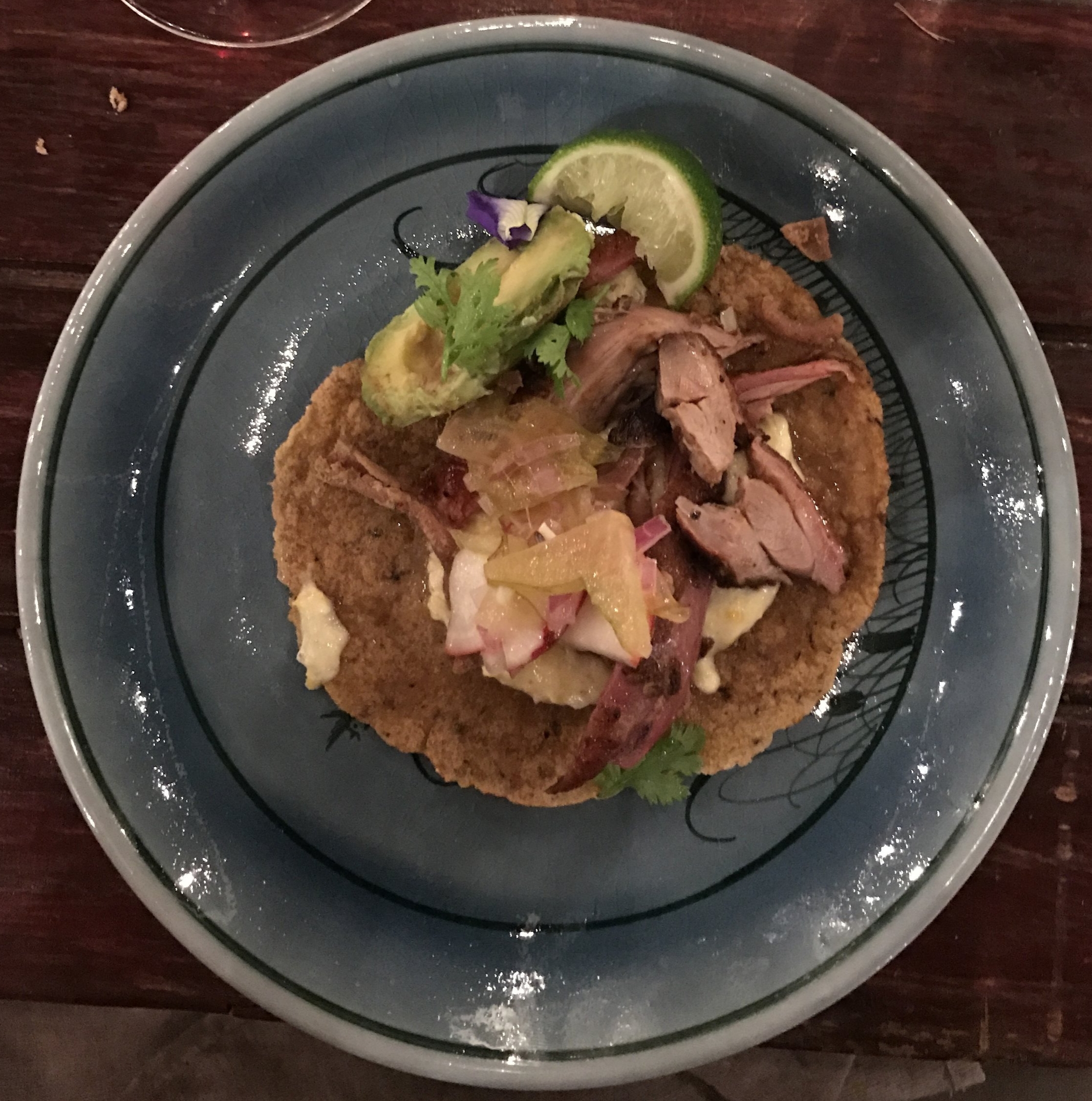 As the meal drew to a close, several people lit some sky lanterns. With the Yi Peng and Loy Krathong festivals still fresh in everyone's mind, releasing the lanterns was a nice way to further close out 2016 and look towards the future.
Eventually, we all packed back into the songthaews, along with smiles and chuckles from the evening, and we made our way back to town.
All in all, I would definitely recommend the Rustic & Blue Farm Dinner to anyone passing through Chiang Mai. It brought out brief glimpses of being home with family/friends and was a nice change of pace from the multitude of restaurants around Nimman.